Edit Any Website from Your Browser with a Small JS Code
Web Surfing:
Every day you search various websites for any purpose or the other. Always gaining some useful knowledge will drop you down from happiness so, while browsing itself try certain tricks which will boost you up for a while. The best trick which you would perform and gain knowledge at the same time is carried out by editing any website browser and changing up to your choice. You can also fool your friends by adding your name on the website with a small JS code.
Edit using JavaScript Code:
To change any website for your choice a simple Java script code will enable to modify the contents. This can be followed only for fun and to entertain your friends.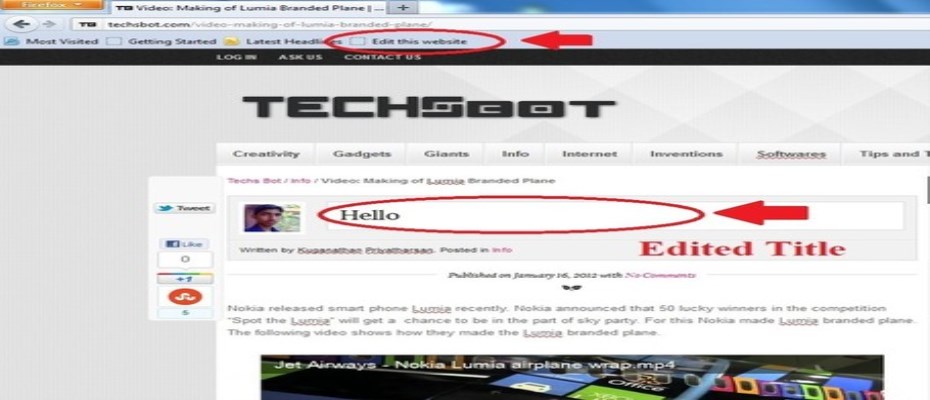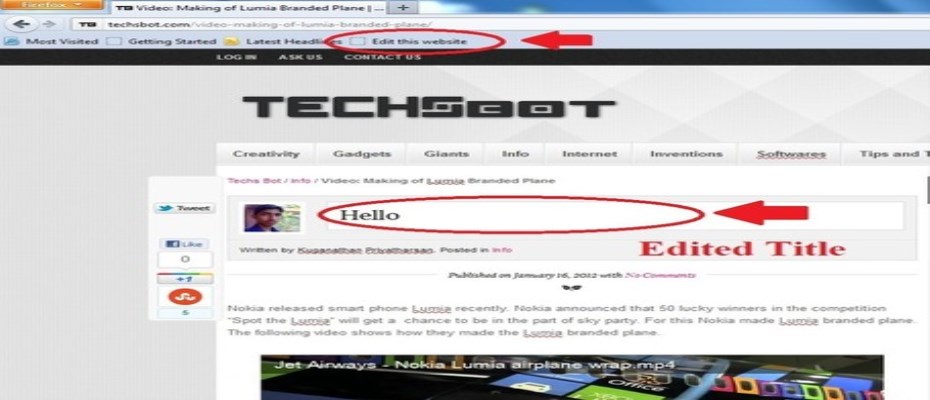 Steps to Carry Out this Trick:
Mozilla Firefox does not support JavaScript and so you can try this out using Google chrome. Open the chrome browser and go to any website, which you want to alter the contents. On top of the address bar type the code given below
Javascript: document. body. ContentEditable %20=%20'true'; %20document.designMode='on'; 20void
If chrome does not work then edit the code without quotes. You can also capture the screenshot of edited content in the website. If you want to change the website back to normal then type the code as given below
Javascript: document.body.contentEditable%20=%20'false';%20document.designMode='off';%20void%
You can also drag the given bookmarklets on the bookmarks bar and start editing
 *Edit this Web site
*Done Editing
The following codes and bookmarklets given above will produce only the clone of respective software. It's a fake idea of editing and not the original one. You can enjoy editing the contents of Facebook and other social networks also. This will help you to fool your friends by showing them the snapshot of edited contents.