Xiaomi Company newly established that the company will be introducing its Mi Mix 2 smartphone on September 11 and however we are still waiting for the official announcement; Xiaomi leaked images are continuing to come in at the rate of loops. Fascinatingly, the launch date falls around the Apple launch event and both the companies are reportedly making a bet high on minimal bezel smartphones out of their stable this year. In this time, Xiaomi leaked image reveals the front panel of the Mi MIX 2 which appears to carry even fewer bezels on the edges as compared to its predecessor.
The Leaked Specifications
A new Xiaomi leaked images suggests that the Xiaomi Mi Mix 2 will pack yet-to-be-announced Snapdragon 836 SoC and run Android 8.0 Oreo out-of-the box. It's worth pointing out that the Snapdragon 836 has still not been announced by Qualcomm aided by 6GB RAM. And it comes with a 6.2-inch display with a screen resolution of 1440×2960 pixels. The Xiaomi leaked images suggest that the Mi Mix 2 might come with 256GB of built-in storage, a 20-megapixel camera, and house a 4400mAh battery.
Xiaomi Leaked Image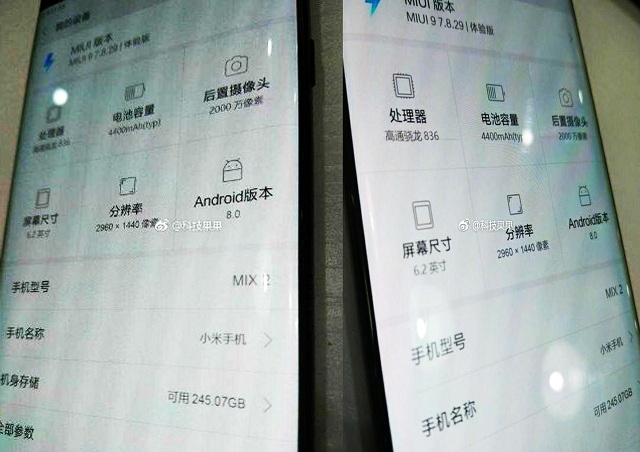 The expected Mi MIX 2′s front panel has an apparent increase in "screen-to-body ratio". The bezels are much thinner, with the display borders much immersive and nearly touching the borders. Also, the chin below the display is noticeably thinner compared to that on Mi MIX. The Xiaomi Mi Mix 2 has also been come with face recognition, it maybe be a main feature of the smartphone.