Earlier In this year, Xiaomi Mi 6 is the first smartphone to be launched.  Now the year coming to an end, so a rumor has been started about next year's flagship of Xiaomi Mi 7.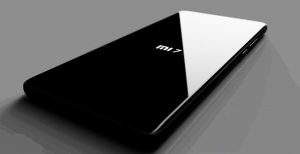 Xiaomi Mi 7 rumor
That rumor has come with the expected price range and expected specifications of Xiaomi Mi 7. The rumors have surfaced online suggesting at what next year's flagship device could look like.
It founded by "Gizmochina", the Xiaomi Mi 7's likely to follow the on-going trend in the marketplace and transport with thinner bezels and full HD screen when compared to this year's Xiaomi Mi 6.
Expected specifications
The Xiaomi Mi 7 will feature a 6.01-inch OLED display that is said to be supplied by Samsung.
The device might be powered by a Snapdragon 845 SoC combined with 6GB of RAM.
The latest rumor exposed that Xiaomi and Qualcomm are now working to optimize the next Snapdragon 845 SoC for the Mi 7.
On the camera session, the Xiaomi Mi 7 is expected to come with a 16-mp dual rear camera with f/1.7 aperture. We still don't have known the camera's resolution. It might also be a 16-MP front-facing camera.
In terms of design, the device is made out metal and glass to add more premium look and feel of the smartphone.
Old rumors also recommended that the Mi 7. It will likely support Qi standard wireless charging as Xiaomi recently joined the Wireless Power Consortium (WPC).
Expected price range
In terms of expected price range, the Mi 7 is expected to selling at a price starting 2,699 RMB (approx. Rs 26,500) in China. If rumors are to be true, the Mi 7 is likely to launch in the first part or early second part of next year.