Lack of organization has lead to the demise of many small and large businesses. Without a proper way of organizing deadlines and priorities, many businesses won't survive the first year of their business.
So to stay organized and grow your business, you should use a new workspace that makes organizing your work much easier. Wrike is the most efficient and user-friendly project management software and provides everything you need to grow your business.
Tracking your work through emails can be deadly for your business. With today's trends involving outsourcing, telecommuting, and cloud computing, it has become more vital than ever to keep your project groups and teams on track.
Project management tools are useful when it comes to tracking projects. When looking at a software for project management like Wrike, you want to make sure it suits you and your team.
Millions of users trust Wrike to accomplish their project management goals and get insight on team performance.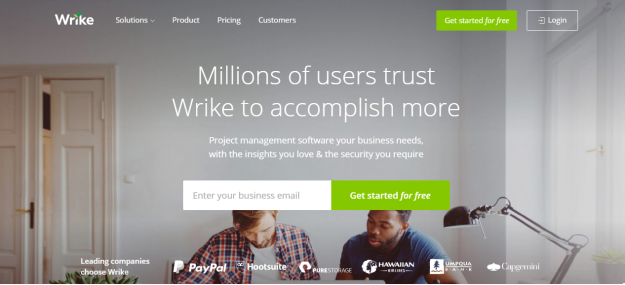 How can Wrike help your business?
Wrike is a real-time task management software with some world-class features which allow your team to be more efficient and engaging. You can simply use Wrike's project planning tools to accomplish the following:
• Keep your business organized.
• Give your business visibility, flexibility, and organize all your projects in one spot.
• Break your company's goals into cognitive tasks
• Interact with your inbox – emails that you can instantly turn into a Wrike task.
• Easily attach files within tasks.
• Easily access your projects anywhere just from the mobile app.
• Use the time tracking tool to know how many hours left before the project deadline.
• Easily edit any file attached within Wrike.
• Assess your resources and track performance via a workload view.
• Use the wrike templates to plan events.
• Manage your project budget using the tracking feature.
• Increase your productivity with online team collaboration, no matter where your team is located.
• Use Wrike's gantt chart software to make decisions and visualize projects as a whole.
• Protect your company with cloud-based support and security.
These are just a few ways Wrike can help your business. Now, let's explore the solutions Wrike offers.
Wrike's Solutions:
For marketing teams:
Wrike provides an easy-to-use marketing project management solution, it solemnly supports marketers to get visibility and flexibility in marketing campaigns and also in running an efficient, collaborative team.
This marketing team's solution will eliminate the need to create separate email campaigns, so you can easily manage events, campaigns and launches all in one tool. This software makes it very easy to communicate with your team members so you can work on your project quickly.
Exclusive features of marketing team:
• Intake forms
• Proofing and approvals
• Resource and workload management
• Built-in email templates
• Document versioning
• Time tracking and budgeting
• Visual dashboards and reporting
Marketing team success story:
There are numerous companies which have experienced success with Wrike's marketing team solution.
Hootsuite was one of the happiest Wrike customers. It uses Wrike's marketing solution to power up its brand visibility and power marketing campaigns.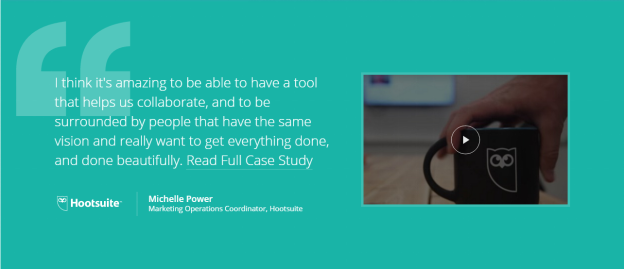 Creative team solution:
Wrike provides a brilliant creative workspace for all the creative teams who strive to design an see an idea go from inspiration to execution. Wrike gives the freedom to creative teams to focus on what they love. The Adobe Creative Cloud extension allows the proofing and approval process of designs to go much smoother.
Best creative team features include:
• Request Management and built-in forms
• Adobe creative cloud extension
• Proofing and approval
• Resources and workload management
• Built-in Project templates
• Time tracking and other budget details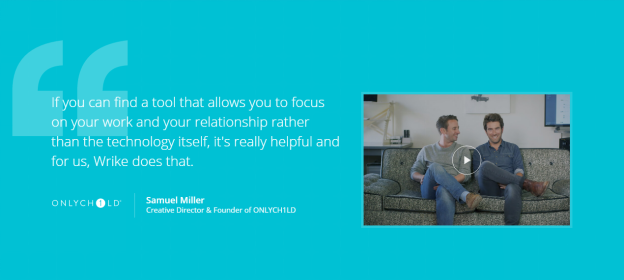 Creative team success story:
Wrike has helped many creative teams construct their creative projects. Here is the success story of Samuel Miller, the Creative Director and Founder of ONLYCH1LD. They have managed their six production projects with Wrike because it allows them to stay organized from anywhere in the world without focusing on technology. Wrike has allowed them to spend more time to be creative and focus on what they love to do.
Project Management Solution:
Wrike has a project management solution to plan and execute multiple projects all in one tool. Managers can simply set the priorities and assign their teams to some part of the project, and they can check in on the team and project status simply by logging into Wrike.
Best Project Management features:
• Gantt Chart/timeline view
• Resource and workload management
• Custom status and workflows
• Real-time status updates on projects
• Visual dashboards and reporting
Project Management success story:
Sevenly's project management team was able to successfully plan and execute multiple projects using Wrike.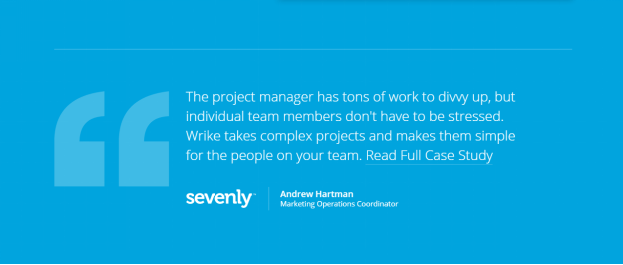 Product Management team:
Product management teams can accelerate their product development by using the Wrike's easyto-use collaborative product management tools. Where they can easily create a product vision and manage their resources to improve their workload reporting and get the expected delivery date.
Best product management features:
• Resource management
• Timeline Gantt chart
• Real-time reports
• Live editors
• File management
Procurify success story:
Procurify was able to increase visibility and efficiency by switching to Wrike. You can watch their success video on Wrike's YouTube channel.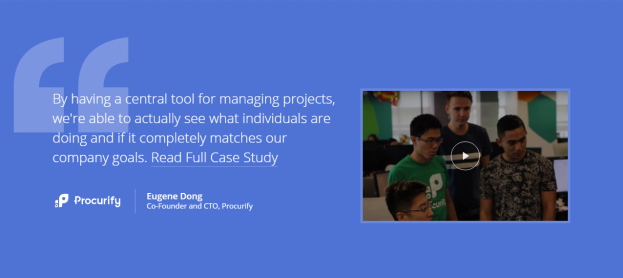 Wrapping up:
Wrike is a perfect tool to organize all your projects on a user-friendly platform where you can manage your team effectively.
Now coming to pricing of the wrike it has the free plan which allows up to five users. Other than that, there are four options available to you: Professional, Business, Wrike for Marketers and Enterprise.
Basically, Wrike is a powerful and easy-to-manage tool for all kind of business users. Wrike has been helpful for many leading companies including PayPal, Hootsuite, Hawaiian Airlines, etc. It's never too late to improve efficiency across your team, so adopt Wrike today!