Tools for transferring:
Long back Drop.io was a tool used for transferring large files over the internet.
If you are the person looking for the simpler tool then we transfer is the best option.
This app provides a simple and an easy way to transfer large files over the internet.
You can share up to 2GB of files online with the help of this tool.
To get along with service does not require any registration and there are no charges.
The app is free of cost with the neat user interface.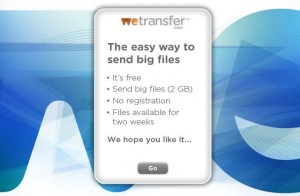 Functions of we transfer:
Only a small widget in the middle of the screen is found on the screen, which helps you to upload files and email it to your friends. You can add multiple files until the total does not cross 2 GB add your email address and the recipient's email address and hit the transfer button. This will upload the files to our transfer server. You can also send a small file along with a small email message. You can send any type of files such as images, videos, and so on, after completing the file upload the tool sends you a confirmation email if the receiver notifies the file then that also will be notified as an email.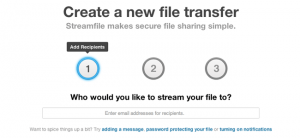 Features:
There are rotating background images, which are too attractive.
You can send large files through this app and up to 20 per of the people can receive the data simultaneously.
The tool stores the data for 2 weeks.
There are no registration fees required for the start up of this app.
It also gives you high uploading speed along with an inbuilt scanner.
If you want to send the data, more than 2GB then you again restart the same tool newly and send it to your friends.
This app can be downloaded and is available free of cost.