Storedot – Fastest mobile charging
People finds distressed if they don't have charge on their device or switches off suddenly while using for important business affairs. It takes atleast half an hour time to charge smartphone devices and 10 minutes to switch on device. At this situation, don't be frustrated, there is a solution. A new charger named Storedot manufactured by an innovative nanotechnology company called israeli. This storedot charger charges mobile quickly and it gives tension free mind for the users.
What is storedot charger ?
Storedot charger charges instantly which turns dead or empty battery to fully charged battery in smartphone devices within 30 seconds, to say exactly it takes only 26 seconds. Under demonstration, this charger charged Samsung galaxy s4 within 30 seconds.
How does it works ?
This charger is completely made up of peptides ( a natural organic compound and acts as signalling function in human body) or a short chain of amino acids and the building block of proteins that based on biological semiconductors. This compound is used in both positive and negative electrodes which keeps battery's intensity and the electrolytes passes the energy between both the ends ( Anode and cathode ) of the battery so that the nanodot's electrical properties permutate all the electrodes to charge smartphones very faster than the usual charger with a prolonged battery life.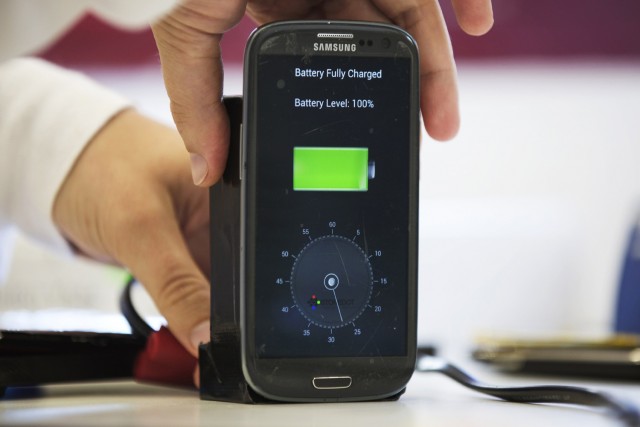 The battery will be available in market within couple of years because the prototype used is too large and it will not set for this generation slimmest mobiles so the product is expected to be more thinner.
This storeDot gets inspired from the nanodot. Initially, the storeDot started life in Tel Aviv University's nanotechnology department which produces large number of biological semiconductors. At the very first time, this company was researching full and full about Alzheimer's disease but now, the company started to concentrated more on technologically supported and they are also researching about the possibilities of using the crystals from amino acids, that possesses them automatically assembled into quantum dots. nanodot usually emits reddish, greenish, or blueish glow naturally in the presence of red light that makes an ideal source material to cadmium for LED displayed screens as well as in the memory devices.
Start using this charger to lead your life according to the technically developed world.