Samsung made an executioner showing with regards with their 2015 flagship cell phones, the Galaxy S6 and S6 Edge. Outline shrewd, numerous would say those two mobiles were great. The organization swore off a plastic design and rather included glass front and back panels with an aluminum outline. They weren't without their blemishes, however. The S6 and S6 Edge didn't offer expandable storage or removable batteries — two features Samsung has been known not in all its phones for a years.
Presently the Galaxy S7 and S7 Edge have made their way to the masses, and they alter fix many of the problems the S6 line presented a year ago. While they don't offer removable batteries, Samsung included expandable storage on both handsets on the off chance that the 32GB of on-board storage isn't sufficient. Samsung for the most part adhered to the same design this time around, however they shrank down the camera knocks on the back and made the gadgets a little thicker to make room for larger batteries.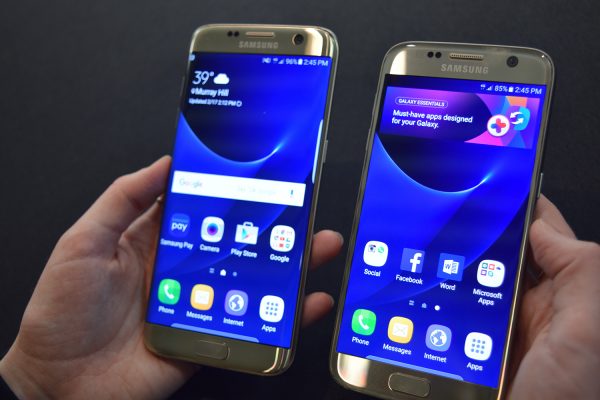 In terms of specs, these are awesome cell phones. They accompany Quad HD Super AMOLED displays, Qualcomm Snapdragon 820 processors, 4GB of RAM, awesome 12MP rear-facing cameras and run the most latest version of Android. Rather than including the same screen sizes this time around however, Samsung kept the S7 at a smaller 5.1 inches, while the S7 Edge has been knock up to a larger 5.5-inch panel.
Truly, these are some mind boggling cell phones. They are somewhat expensive, however with everything taken into account, we think the high asking cost is justified, despite all the trouble.
Specs:
Samsung Galaxy S7
5.1-inch Super AMOLED display with 2560 x 1440 resolution, 577ppi
Quad-core Qualcomm Snapdragon 820 processor
4GB of RAM
32GB of on-board storage, microSD expansion up to 200GB
12MP rear camera, 5MP front camera
Non-removable 3000mAh battery
Android 6.0.1 Marshmallow
142.4 x 69.6 x 7.9mm, 152g
Samsung Galaxy S7 Edge
5.5-inch Super AMOLED display with 2560 x 1440 resolution, 534ppi
Quad-core Qualcomm Snapdragon 820 processor
4GB of RAM
32GB of on-board storage, microSD expansion up to 200GB
12MP rear camera, 5MP front camera