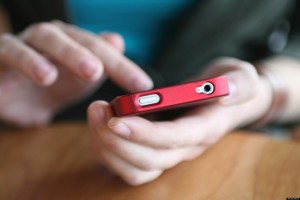 Ever since it became possible to game on your smartphone, there have been predictions that mobile gaming would one day wipe out console and other video gaming. Now, though, it seems that market analysts see a future where gaming revenues will gradually balance out across the four different gaming screens that currently exist – that is TV, PC, handheld and tablets, and phones.
Currently, the worldwide percentages on gaming spend are as follows: 28% TV, 39% PC, 13% tablets and handhelds, and 15% phones. In the US, the split is 44%, 26%, 15% and 15% respectively. But video games marketing research firm Newzoo, based in Amsterdam, sees that figure changing in the coming years, so there will be an even split across each of the four screen types.
It's logical that we will inevitably do more gaming on our mobile phones as time goes by. We have these handy little devices with us 24/7 afer all. Already, there are numerous gaming options on a mobile – from playing puzzler type games such as Candy Crush and Bejeweled through to playing casino games for real money at sites such as bgo, Paddy Power and SkyVegas. Not to mention all the action shooter games. While some games initially gained traction through social media websites such as Facebook, they are now just as easily available as standalone apps.
Similarly, there's obvious marketing potential for gaming companies through social media such as Instagram, Facebook and Twitter, and accessing social media is one of the most popular activities that people use a mobile phone for. For instance, bgo's latest TV ad features Dan Bilzerian, a poker player who shares his exuberant lifestyle with an Instagram following of 6.2 million. The bgo ad is a fun and light-hearted look at a supposed game with Bilzerian vs. the Boss, aka Verne Troyer, the celebrity face of bgo. Of course, you can watch the ad on bgo's site, but anyone following Bilzerian's Instagram account will notice that he's put up a link to it too. So it's easy to see how gaming marketing will affect mobile users the more time they spend on their mobiles.
There was a 43% increase in mobile gaming in the period 2013-2014 and last year's mobile gaming revenue was $15 billion. In 2015, mobile gaming revenues are forecast to be $30.3 billion, outstripping console gaming revenue – which is estimated to be $26.4 billion – for the first time. However, Newzoo seems to be saying that the idea of console gaming dying a death is no longer a foregone conclusion.
What increased mobile gaming revenues do mean, though, is that both Google and Apple will be included in the top five public companies by games revenue in 2015. That's because they earn 30% commission on every game sold in an app store. They're not the only app stores enjoying the mobile gaming boom though. Significant Android market share is already going to Amazon, 360 Mobile Assistant and Tencent's MyApp.
While mobile gaming's future doesn't look like it will ever be complete domination of the gaming industry, its immediate prospects certainly don't seem too bad.