There aren't a lot of effects in the camera menu to play with. The reason for this point is that Apple still wants to keep things simple for effective photographers. There's the effect menu which gives you eight filters to apply for some arty shots, and the way the iPhone 5C previews all the options at the same times means you'll be able to pick the best one for your situation. If you're looking to tweak the exposure you can slide your finger up or down vertically on the screen to adjust a sun icon, but if you're looking to fiddle with white balance or brightness you'll have to do it in post-production. Thankfully, Apple has added tools to your editing options to fine tune the light and color.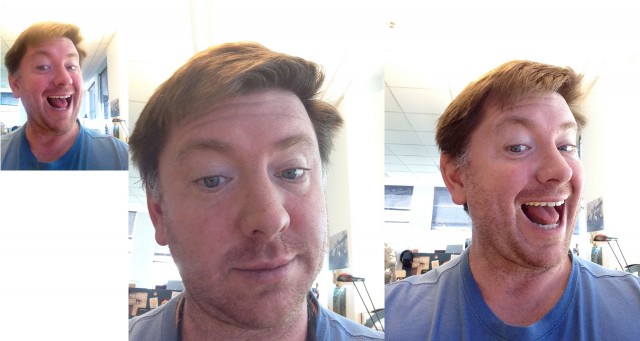 Samsung Galaxy S4 had turned up with a multitude of shooting modes from burst to beauty face. But there is nothing like this on the iPhone 5C, bar HDR, which is, again, indicative of the simplicity Apple is trying to portray. Apple has spent time tinkering behind the scenes with its camera software and that has resulted is a surprisingly strong performance with the iPhone 5C able to adapt to various settings. It doesn't sport the same upgraded specs and performance of the iPhone 5S, but it doesn't work out of the box. You can provide some assistance by tapping what you want the 5C to focus on, plus pinch your fingers together and you'll be able to zoom in. The zoom is digital which means picture quality will suffer, so use it sparingly. If you flip into panorama mode while iOS still forces you to capture in portrait which is bizarre, the technology behind it which stitches it all together is nothing short of miraculous. Better images can be had with the more expensive iPhone 5S, or the more camera centric Nokia Lumia 1020, but for the common person in the street the 5C will more than suffice. It's got selfies written all over it.
Video recording on the iPhone 5C can be accessed by heading to the camera app and swiping your finger from left to right over the shutter key to switch between the ability to capture static and moving images. The rear 8MP iSight camera is capable of capturing video in full HD, 1080p resolution at 30fps, while the front facing camera has been upgraded to support 720p recording. When you have pressed record you'll notice an additional shutter button appears in the bottom corner of the screen – pressing this will capture a photo while recording, allowing you to capture special moments in still form as well as in motion. Video quality is pretty good as long as you keep the iPhone 5C still and don't zoom in, because as soon as you start zooming things get blurry and pixilated. As with the camera app you're options here are severely limited, with the option to switch between front and rear cameras and toggle the flash on and off. If you want to use the flash light while filming you'll need to turn it on before hitting record as there's not option to toggle it once you're running.