Customer's help:Sometimes if there exists a terrible situation that you need to make a call or message when you have zero balance in your prepaid account then there is an idea to come out with such annoying circumstances. The service to make a call or message with a zero balance may differ from operator to operator.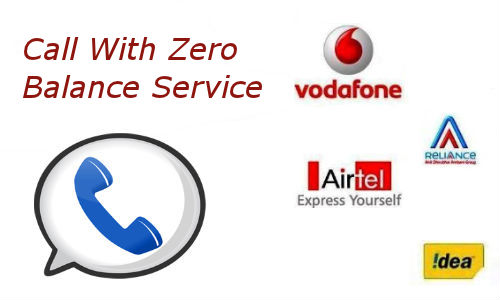 Airtel:
For the users using Airtel, you can adopt call me back service when you have a null balance on your account.
You can simply dial to #141 from the prepaid mobile number.
A simple pop up screen will appear stating several operations such as share talk time, call me back SMS, gift pack, ask for talk time, and so on.
With this service, you can send up to 5 call me back SMS per month for free.
Vodaphone:
For the people using Vodaphone they can transfer their balances to their friend, provided that both of them should be in the same circle. For transferring the balance to your friend you can simply dial *131*MRP*friend's number#. For using this service, Vodaphone applies a reasonable charge that both the mobile users should be on the Vodaphone network for at least 90 days.
Idea cellular:
Idea cellular service provides idea lifeline, which allows the customer to make a call with zero balance.
The users will have to dial 53567 and the user will get a credited amount with a balance of Rs 3.
This service has a reasonable charge, which will be charged the next time the user makes a recharge to their mobile.
Reliance:
This has also started the Mera network service where the users can make a call with zero balance. To activate this service the user should send SMS to ACT CC for 53739.