The Apple's HomePod release being postponed to next year, Apple is now likely to come with an update to its iMac Pro. The developers "Johnathan Levin" and "Steve Troughton-Smith" both of them tweet about, what you can expect from the upcoming iMac Pro. The best part of iMac Pro is that it will come with iPhone 7 A10 Fusion chip, along with other things. It will enable "Hey, Siri" functionality.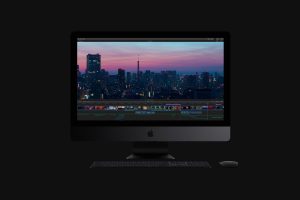 iMac Pro Feature
Not like the iOS, Apple's macOS as of now failures out on voice triggering Siri. But as per some info exposed via the BridgeOS 2.0 software package from Apple, it looks similar to the Apple's iMac Pro and it will feature the never-off "Hey, Siri" option. Which is proposes that you won't have to use the trackpad or a mouse to activate Siri. The feature was also confirmed by "Guilherme Rambo" on his twitter account.
iMac pro's first A-series chip
If they added the iPhone 7's A10 Fusion chips as a co-processor. It will be the first Apple to gets this use an A-series chip on a Mac. As per some report, earlier this year, Apple would use an ARM co-processor for the MacBook Pro that would manage fewer power jobs like it will maintain activated background application to save battery's life. The existing Apple's MacBook Pro is that featured with Touch ID and Touch Bar use Apple's own T1 chip. So called the iMac pro can getting an A10 Fusion from the Apple's own T1 chip. It is still a mystery what the A10 chip will do for the iMac Pro. We have no idea until it starts shipping by the end of the year.
Apple's HomePod speaker
Likely, Apple's smart speaker called HomePod is being postponed to next year. The Apple's HomePod is announced at Apple Worldwide Developers Conference (WWDC) earlier this year. It is likely to launch on sale in this year-end.
However, now Apple has confirmed that the HomePod smart speaker will start shipping early next year. The announcement said, "We can't wait to experience the Apple's smart speaker HomePod, Apple's innovative wireless speaker for the home, but we need a little more time before it's ready for our customers. We'll start shipping in the United Kingdom, the United States, and Australia in early 2k18."