Home security cameras are becoming more innovative in the technology industry. Amazon Cloud Cam technology has a very HQ video, all day and night 24-hour monitoring. It has the capacity to save video during periods that the camera start motioning in the room. But Amazon cam is more innovative then another cloud camera and they add some extras features, like Amazon's Alexa assistant. Which may make it attractive. And it costs $120. it's considerably very cheaper than the $200 Nest Cam.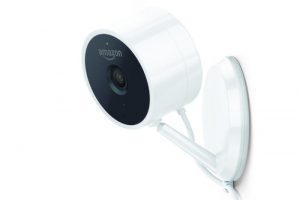 Amazon Cloud Cam Design
Cloud Cam has a white color plastic body with a black face camera; it has 1080p full-HD camera quality. A white stand fixed under the cloud cam. If you'd like, you can attach the camera to a wall. In cases, you can fix it in your room corner, and the design shouldn't spoil your home decoration.
Amazon Cloud Cam Set-Up and Video Quality
Amazon Cloud Cam is easy to plug it in and you can download the free Amazon Cloud Cam app to your iPhone and it has capable of recording in minutes. Once set your camera, there is not much to do with Cloud Cam other than watch what is happening from the Cloud Cam app. You can use the app to watch a live video stream, as well as you can recode and you can see the video late, like when the camera becomes aware of motion. The recorded video seems full High Definition resolution made for crystal clear picture quality. Even it has the ability to zoom in full High Definition to see the video is awfully attractive. It lets you see the video every minute and accurate details, like a person's face, or anything like that might prove useful when you are not at the home.
Amazon Cloud Cam Key Features
Amazon's Cloud Cam is a secured latest innovative technology, which means you have to just plug it in the switch and there is no way to charge it via battery. Having battery power would give you more flexibility in where to place it around your house. The Cloud Cam comes with 2 ways audio sound so that people being recorded, like a family member, who just come to your home, a robber, you can talk to them through Cloud Cam app. The microphone works well.
The Cloud Cam app will send you quick notifications if someone detects by movement. Cloud Cam works with Alexa assistant. That means you can ask Alexa to show a live stream on an Echo Show or Fire TV.
Amazon Cloud Cam App
The free Amazon Cloud Cam app is easy to use and offers a multiple of customization choices. A Zones feature is set to tell the camera to avoid actions in the certain zone of view. It sets a few zones during testing, even when some action is detected. The free Amazon Cloud Cam app has a number of extra features, including the ability to automatically turn off the camera when you are at home and you can set the sensitivity of the camera's motion sensor.
Amazon Cloud cam Final review
If you want to buy a security camera, Amazon Cloud cam is the best selection. Depending on the price and the quality of the video is extraordinary and all of other extra features are working well.